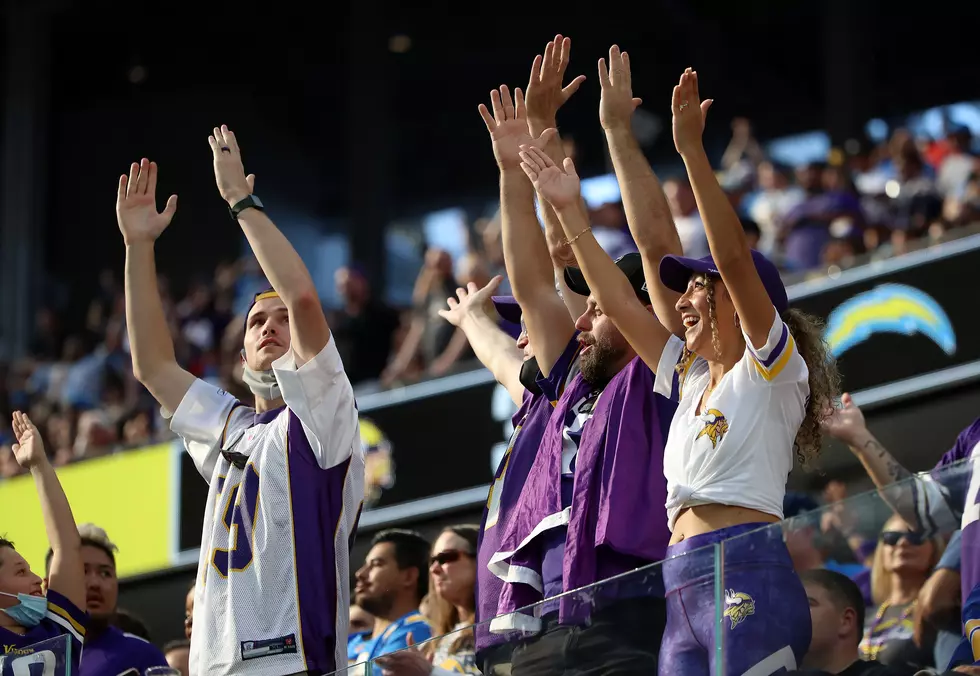 Friday is Skol Chant Day in Minnesota!
Getty Images
UNDATED (WJON News) -- The Minnesota Vikings are hosting the New York Giants in an NFC Playoff game at U.S. Bank Stadium on Sunday afternoon.
The Vikings organization wants its fans to celebrate the big match-up all weekend long. They have self-proclaimed Friday as "Skol Chant Day" in Minnesota.
The team is hosting an event at the Mall of America Rotunda on Friday from 5:00 to 7:00 p.m. for a Minnesota Vikings Purple Friday Fan Rally!
The fan rally kicks off the Wild Card weekend with appearances from Minnesota Vikings Cheerleaders, the SKOL Line and Vikings Legends Scott Studwell and Chuck Foreman.
If you can't join in person, take a video wherever you are with your family, team, youth group, classroom, etc. and tag them on social media using the hashtag #AsOne and @Vikings.
The Vikings are 13-4. They host the New York Giants in a wild-card game. The Giants went 9-7-1 under first-time head coach Brian Daboll.
Sunday's playoff game at 3:30 p.m. will be broadcast on AM 1240/95.3 FM WJON.
RANKED: Here Are the 63 Smartest Dog Breeds
Does your loyal pup's breed make the list? Read on to see if you'll be bragging to the neighbors about your dog's intellectual prowess the next time you take your fur baby out for a walk. Don't worry: Even if your dog's breed doesn't land on the list, that doesn't mean he's not a good boy--some traits simply can't be measured.