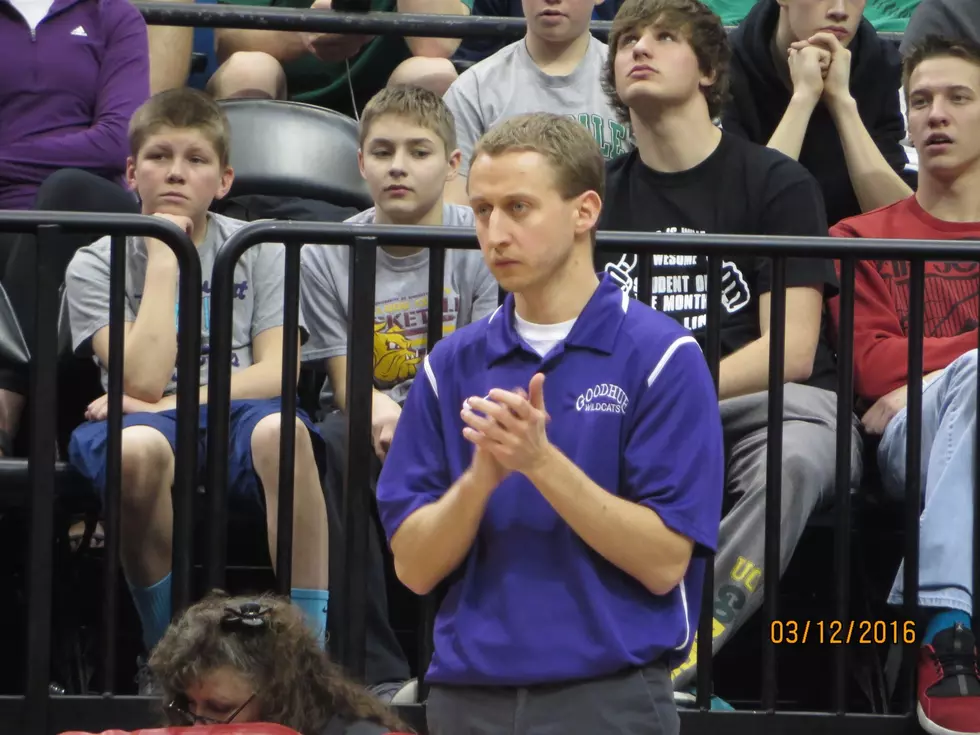 Five Big Nine Teams Among MBBN Elite
Goodhue Head Coach Matt Halverson at State. File Photo 2016
The latest Minnesota Basketball News rankings of boys high school basketball teams have four Big Nine teams ranked. Three in Class 3A and Owatonna in Class 4A.
The Huskies are the defending Section 1AAAA Champions.  They have been on a roll lately winning their last three games and going 8-2 in January.
The South Suburban Conference has 6 teams in the top 17 of Class 4A, 2 of top 4. 3 of top 9.
The Hiawatha Valley League sport Goodhue #4, Class 1A, Lake City #1, Class 2A, Stewartville #14, Class 3A.
Hayfield is #7 in Class 1A with fellow Gopher Conference member Maple River ranked #5 in Class 2A.
The complete Top 20 from each class are listed below:
Class 1A
New Life Academy
Cass Lake-Bena
Cherry
Goodhue
Henning
Russell-Tyler-Ruthton
Hayfield
Lakeview
Belgrade-Brooten-Elrosa
Ada-Borup-West
Lyle-Pacelli
Spring Grove
Browerville Eagle Valley
Northland
Sacred Heart
Deer River
Border West
Fosston
Legacy Christian
Warren-Alvarado-Oslo
Class 2A
Lake City
Holy Family Catholic
Maranatha Christian
Lake Crystal-Wellcome Memorial
Maple River
Minneapolis North
Albany
Minnehaha Academy
Perham
Esko
Watertown-Mayer
Mora
Norwood-Young America
Plainview-Elgin-Millville
Sauk Centre
Minneapolis Edison
Thief River Falls
West Central Area
St. Cloud Cathedral
Two Harbors
Class 3A
Totino-Grace
Benilde-St. Margaret's
DeLaSalle
Mahtomedi
Orono
Alesandria
Mankato East
Hermantown
South St. Paul
Austin
Princeton
Delano
Worthington
Stewartville
St. Anthony Village
St. Thomas Academy
Winona
New Ulm
St. Paul Highland Park
Becker
Class 4A
Park Center
Lakeville North
Maple Grove
Eastview
Minnetonka
Wayzata
Buffalo
Hopkins
Lakeville South
East Ridge
Andover
Shakopee
Farmington
Cretin-Derham-Hall
Owatonna
Stillwater
Eagan
White Bear Lake
Minneapolis Southwest
Duluth East
Safari Whitetail Resort In Minong For Sale