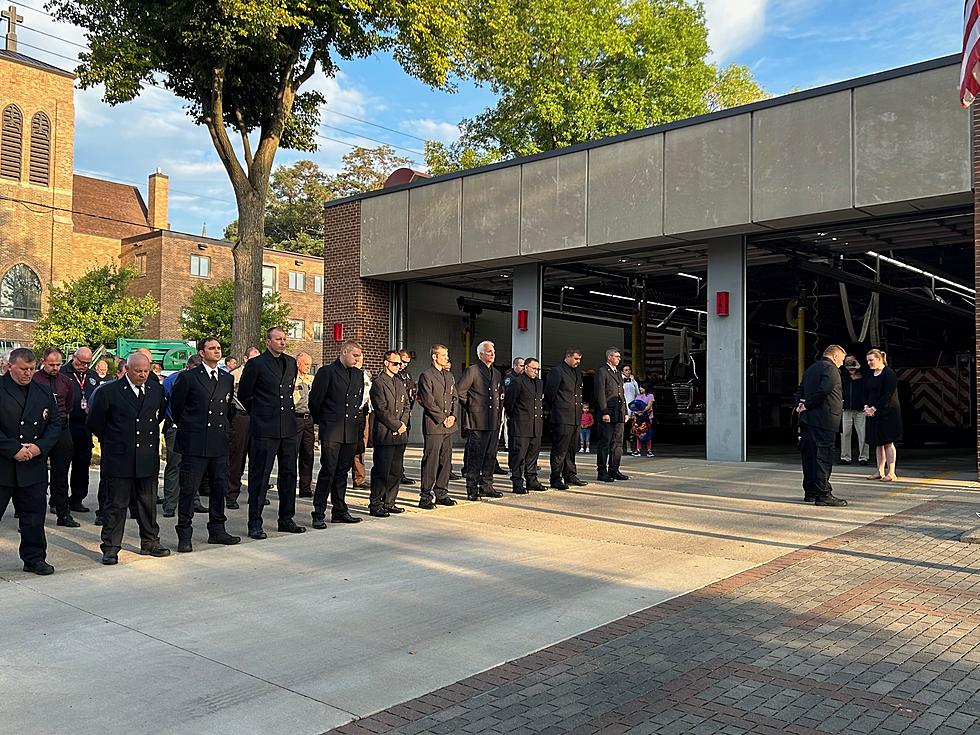 Faribault First Responders Remember 9/11
View of Pastor Offering Prayer During Sept 11 Comemmoration Ceremony at Faribault Fire Station. Photo by Gordy Kosfeld
Dustin Dienst, Faribault Fire Chief welcomed a handful of citizens and a couple dozen first responders to a Commemoration Ceremony of 9/11 today at the Faribault Fire Station.
Following the brief introductory remarks a United States flag was raised to the top and then lowered to half mast as ordered by proclamations from Minnesota Governor Tim Walz and U.S. President Joe Biden
Then the bell outside the Fire Station was sounded 9 times.
Pastor Carrie Chatelaine of First English Lutheran Church then offered a prayer of thanks for all first responders who gave their lives in protection of others on September 11. 2001 and all current first responders who put their lives on the line everyday.
Chatelaine also asked for their protection from harm.
Faribault Police Chief John Sherwin and Rice County Sheriff Jesse Thomas were among those in attendance along with Faribault Mayor Kevin Voracek and City Administrator Tim Murray.
The entire ceremony lasted under five minutes.
Before dismissing everyone Chief Dienst once again thanked those who attended the event saying remembering the lives of those lost that day while doing their jobs is important.
In rural Pennsylvania Minnesota native Tom Burnett Junior and the other passengers aboard United Airlines Flight 93 were hailed as heroes for stopping their hijacked plane from carrying out it's mission.
Four planes were hijacked September 11, 2001 by a total of 19 Al-Qaeda terrorists.
American Airlines Flight 11 hit the North Tower of the World Trade Centre in Manhattan, New York at 7:46 a.m. our time.
United Airlines Flight 175 struck the South Tower of World Trade Centre 17 minutes later.
Both 110 story buildings collapsed within 1 hour 41 minutes.
American Airlines Flight 77 crashed into the side of the Pentagon in Washington. D.C. at 8:37 a.m. our time.
United Airlines Flight 93 crashed in a field in rural Pennsylvania when passengers stormed the cockpit in an attempt to regain control of their plane.
The intended target for that plane was believed to be the White House or U.S. Capitol.
People Who Over Slept On 9/11 Share How They Learned About New York
We decided to take some of the top comments, and take you back to 2001.