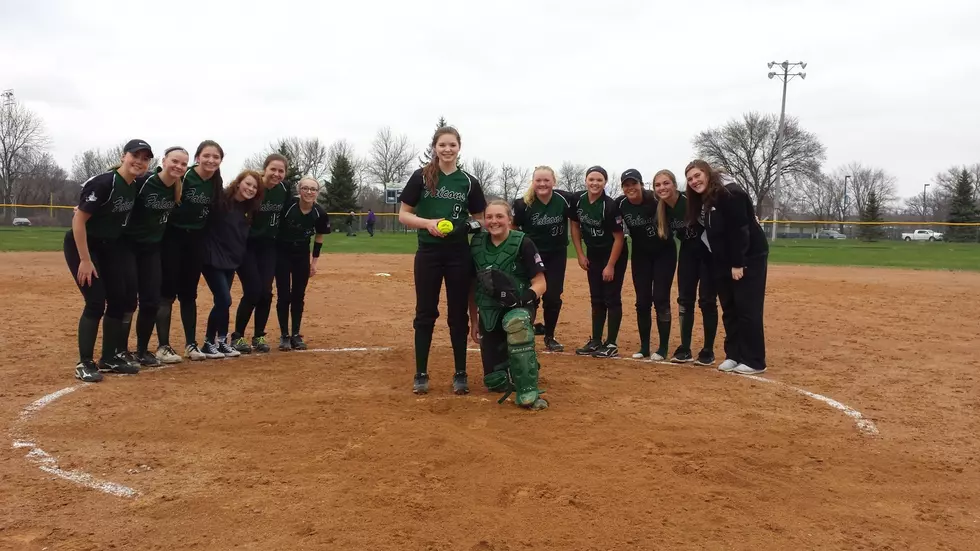 Faribault Fastpitch Team Begins Second Season Thursday
Photo courtesy of Jesse Armbruster
The Faribault Falcon fastpitch team has not played a game since their 10-5 season finale loss to Mankato West last Thursday.
They were behind the Scarlets 6-0 going into the bottom of the fifth inning when they finally appeared to figure out junior ace pitcher Briggs Carlson with seven hits over the last three innings.
It was a battle of the No. 1 rated and defending state champs and the upstart and at the time, unbeaten No. 2 ranked Falcons.
Faribault had just defeated Mankato West 5-4 the previous Friday in the championship game of what was called the Section 2 Class 3A preview tournament. However, Scarlets head coach Don Krusemark elected not to throw his top pitcher in that game.
I told assistant coach Jessie Armbruster after their loss you could make a case for Faribault to be the top seed in the Section 2 Class 3A Tournament. In my heart of hearts I knew Mankato West would get the nod because of the Big Nine Conference title and Faribault would be the No. 2 seed. That's exactly how it happened.
Going into the games of the tournament that start Thursday at Caswell Park in Mankato, Faribault is 19-1 with a loss to Mankato West and a win over Mankato West.
The Scarlets are 17-3 with the same record against Faribault and losses to Class 4A state-ranked Prior Lake and New Prague. They also have wins over Class 4A teams Chaska, Wayzata and Apple Valley. Mankato West defeated state-ranked Winona, Faribault and Mankato East.
The Falcons defeated Class 4A teams Tartan and Andover and beat four state-ranked teams in West, East, Winona and Visitation.
If you were to use the QRF, which Section 2 Class 2A used in both fastpitch and baseball, then Faribault would be the top seed with a QRF of 158.8. The Mankato West QRF is 147.8.
The rest of the tournament shakes out like this:
No. 3: Mankato East (13-7)
No. 4: Hutchinson (11-9) has a big win over New Prague
No. 5: New Ulm (16-3) losses to Hutchinson, St. Peter and Farmington
No. 6: Marshall (7-13)
No. 7: Waseca (3-18)  Faribault will play them first at 5PM Thursday and defeated the Bluejays 16-1 in four innings in that section preview tournament
No. 8: Worthington (6-14)
Krusemark said after their win over Faribault to capture the Big Nine title his sleeper in the tournament is Hutchinson, and if you look solely at the records, the Scarlets actually have a tougher draw.
If Faribault is laser focused and plays No. 3 seed Mankato East in the 7PM game Thursday night, it won't be easy to beat them for a third time this season. It took extra innings to defeat them in the section preview tournament.
The Falcons know they can't look by anybody in this loaded section. The 19-1 record was awesome during the regular season but everybody is 0-0 now.