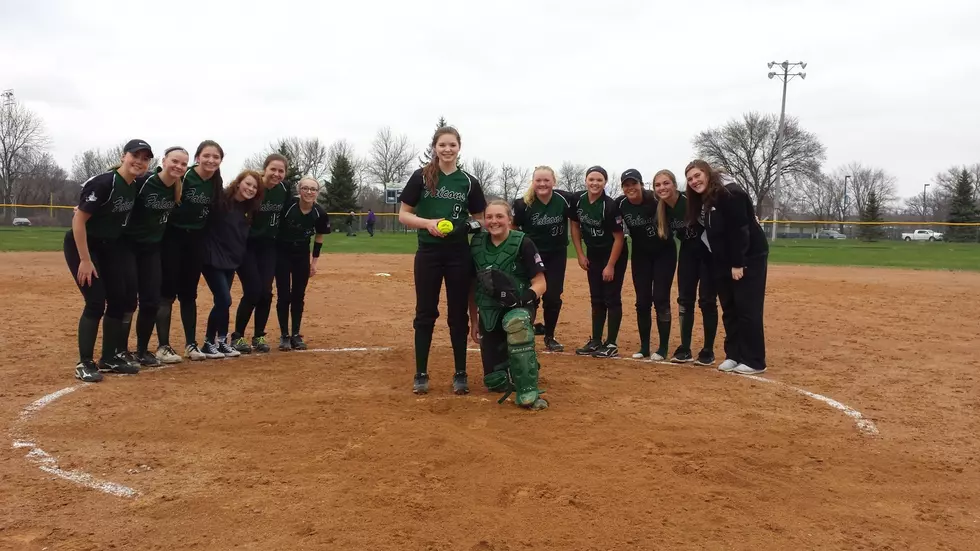 Falcon Softball Ranked Third in Latest Coaches Poll
Photo courtesy of Jesse Armbruster
The unbeaten Faribault Falcon fastpitch softball team is ranked third in Class 3A in the latest Minnesota High School Fastpitch Softball Coaches Association poll.
Faribault was ranked seventh and jumped to third after a come-from-behind win over Rochester Century on Saturday in Rochester.
Defending state champion Mankato West is on top with one loss and Hermantown is second in Class 3A.
The Randolph Rockets are on top of the Class A poll and their loss to Waterville-Elysian-Morristown was reported. Blooming Prairie ranked ninth in Class A.
In Class 2A, Maple Lakes is still atop the poll with Pipestone Area No. 2. Chatfield jumps from fifth to third. Winona Cotter is fifth, defending state champion Zumbrota-Mazeppa is seventh, Rochester Lourdes is eighth and Pine Island is ninth.
In Class 4A, Chanhassen is still atop the poll with Anoka second. Prior Lake is third, Farmington fourth and New Prague 10th.
Complete listings are below:
Chanhassen
Anoka
Prior Lake
Farmington
Forest Lake
Park of Cottage Grove
Blaine
Woodbury
Stillwater
New Prague
Mankato West
Hermantown
Faribault
Chisago Lakes
Rocori
Becker
Totino-Grace
Visitation
Academy of Holy Angels
Mound Westonka
Maple Lake
Pipestone Area
Chatfield
Albany
Winona Cotter
Park Rapids Area
Zumbrota-Mazeppa
Rochester Lourdes
Pine Island
Fairmont
Randolph
Edgerton/Southwest Minnesota Christian
New York Mills
Sleepy Eye St. Mary's
Maranatha
New Ulm Cathedral
Kerkhoven-Murdock-Sunburg
Sebeka
Blooming Prairie
Tracy-Milroy- Balaton