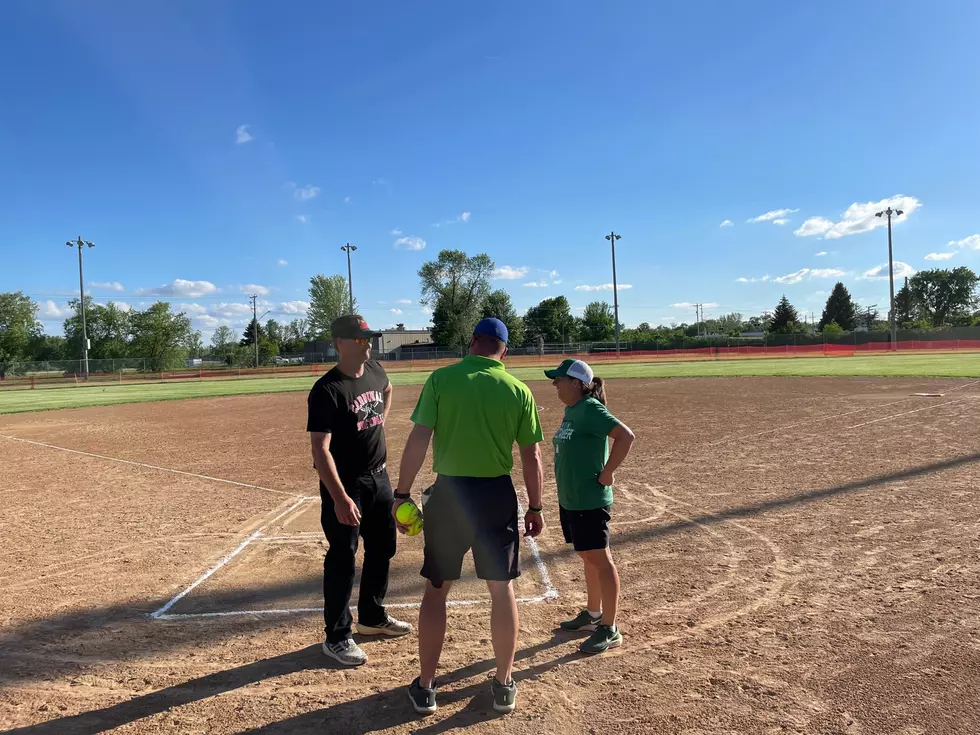 Bethlehem Academy in Section 1A Final
Coin Flip for Home Team Coach Scott Trump and Coach Crystal Lamont. Photo by Gordy Kosfeld
The Bethlehem Academy Cardinals defeated Southland 8-1 and Waterville-Elysian-Morristown 9-5 to advance to the Section title games Thursday in Austin.
The Cardinals will face Wabasha-Kellogg at 5:00 p.m. and must defeat the Falcons twice to advance to next week's State Softball Tournament in North Mankato.
Waterville-Elysian-Morristown tangled with Wabasha-Kellogg in the Winner's Bracket and had their chances but fell 4-1 putting the Falcons one win away from state.
Senior right handed pitcher Gloria Cortez was her usual efficient self with 70 pitches thrown in the 7 innings, 46 for strikes.  She struck out 3, allowed just her second walk all season and hit 3 batters.
My book had Wabasha-Kellogg with 5 hits in the game and the Buccaneers with 4 hits.
Following a 6 pitch first inning for Cortez that ended in a double play for the Buccaneers Waterville-Elysian-Morristown scored on their only run of the game.  Following a strikeout looking Rylee Pelant was walked, catcher Emma Woratschka  singled and WEM was in business.
A wild pitch allowed Pelant to advance to third base.  She scored on a fielder's choice off the bat of Hannah Bruns who alertly went to second base when the shortstop threw home to get Woratschka out.
After Woratschka's courtesy runner was thrown out trying to score Alayna Atherton hit a smash right to second base for the third out.
With two outs in the third inning WEM loaded the bases on a single, error and walk but a pop out to the pitcher ended that threat.
Wabasha-Kellogg opened the second inning with senior Megan Solberg hit a hard grounder resulting in an error. Sophmore Sam Gusa hit a single.  Cortez got the next two batters to fly out and pop out before freshman catcher Lauren Stumpf smacked a RBI single to tie the game at 1.
With one out on one pitch to start the top of the third inning Falcons pitcher Sophie Graner was hit by a pitch on the first pitch thrown.  She did not move away but appeared to stick her arm out.  The next batter clubbed a single.  Following a pop out for the second out Gusa clubbed a RBI double scoring Graner's courtesy runner.
The next batter Hayden Hawkins was hit on a 0-2 count pitch. Buccaneers Head Coach Crystal Lamont took time and asked the home plate umpire if the batter didn't lean into the pitch.  Which I honestly thought happened.
Cortez has impeccable control typically and was credited with hitting 3 of the first 15 batters faced.  One of them scored.  Interestng that Cortez did not quit throwing inside and after Lamont came out no more Falcons were hit by a pitch.
The throw from left field to home went over the catcher's head and after Woratschka retrieved the ball she tried to flip it to Cortez who could not catch the ball.  Nobody was backing up Cortez on the play and she had to run to retrieve it allowing Jacquiline Avilez to score on the error.
Wabasha-Kellogg added a run in the 6th inning following a one pitch out sophmore Hannah Johnson had a single followed by a bunt getting her into scoring position for the #9 hitter freshman Brielle Adams to bring home with a single.
Our Cashwise Foods and Pharmacy Deliveries of the Game were awarded to Rylee Pelant for scoring the only WEM run and Hannah Woratschka who singled to bring her in and was on base three of the four times she batted in the game.
Bethlehem Academy Head Coach Scott Trump and Buccaneers Head Coach Crystal Lamont were joined by a Tournament official for the coin flip before the game which Coach Trump won and elected to be the home team.
The Bucs started the game by scoring two runs in the top of the first inning without the aid of a single hit.  A walk opened the inning following by an error that turned out to allow a run to score and the person who connected with the ball to be at third base after the throw sailed over the first baseman's head and down the right field foul line.  Pelant would score on a wild pitch.
Cortez threw 4 pitches to get 3 groundouts in the bottom of the first inning.
In the second Cardinals shortstop junior Kate Trump attacked the ball for a doulbe to start the inning.  On the next pitch BA freshman pitcher Morgan Wilson hit a home run over the left field fence to tie the game.  Designated Player 7th grade student Sarah Tobin hammered a double.
Senior Mercedes Huerta executed a sacrifice bunt advancing Tobin to third base before junior Josie Rose hit a perfectly placed RBI single.  Freshman Anna Cohen stroked a single infront of a error off a junior Reagan Kangas batted ball.  10 Cardinals came to the plate, 4 runs scored on 6 hits and Cortez threw just 14 pitches, 1 ball.
Waterville-Elysian-Morristown lead hittter in the order Jordan Green walked to open the third inning later scoring on a Hanna Bruns single to make the score 4-3 BA.
The Cardinals opened the 4th with #9 hitter junior Lindsay Hanson hitting a 0-1 count single up the middle.  Cohen executed a perfect bunt for a single.  Following a pop out Anna Tobin singled. Trump hammered a 2 run double, Wilson hit a 2 run single and Cortez left the game with 38 pitches thrown in 3 and 1/3 innings pitched, 32 strikes.
Left Handed junior Addyson Taylor was brought into the pitching circle and did what Coach Lamont was hoping for, held down the Cardinals allowing just one run the rest of the game.  Taylor also threw strikes during her time in the game with 36 pitches in 2 and 1/3 innings, 25 strikes.
Bethlehem Academy definitely had their hitting shoes on for the game collecting 15 hits and were just a triple shy of hitting for the cycle as a team in the contest.
Wilson threw 115 pitches, 70 strikes with 5 strikeouts, 5 walks, scattering 6 hits.
Waterville-Elysian-Morristown Cashwise Foods and Pharmacy of Owatonna Deliveries of the game were awarded to the two seniors on this year's team.  Rylee Pelant and Gloria Cortez for their fantastic senior leadership.  The Buccaneers ended their season 11-12 and West Subsection Champions.
Bethlehem Academy is 15-9 going into their showdown with Wabasha-Kellogg on Thursday.  The 5:00 p.m. game will be broadcast on KDHL Radio.  If a second game is necessary it will also be on the airwaves.  920 AM, 97.9 FM and on the FREE KDHL app.
In other softball games Tuesday:   Section 1 Class 2A
Winner's Bracket Cannon Falls 4  Chatfield 2  sending the Bombers to Thursday's Finals   If they win one game they go to state
In Elimination bracket Zumbrota-Mazeppa defeated St. Charles 5-4
Chatfield then blanked Z-M 6-0 so Chatfield plays Cannon Falls 5pm Thursday and must win twice to advance to state
Section 1 Class 3A
Winona won the Winner's Bracket game with Byron 3-2.  Winhawks are one win from state.
Elimination Bracket Kasson-Mantorville over Red Wing 4-2
KoMets then defeated Byron 4-0.  Kasson-Mantorville plays Winona in Austin on Thursday and has to win twice to go to state.
Section 1 Class 4A
Winner's Bracket game Lakeville South 5  Farmington 3   The Cougars are 1 win from State.  Play 5pm Thursday in Austin against Farmington.
 Elimination Bracket Northfield 4  Lakeville North 3
Farmington 5  Northfield 4   The Tigers play Thursday and must win twice in Austin to advance to state.
Any surprises here in your mind?
LOOK: Famous Historic Homes in Every State