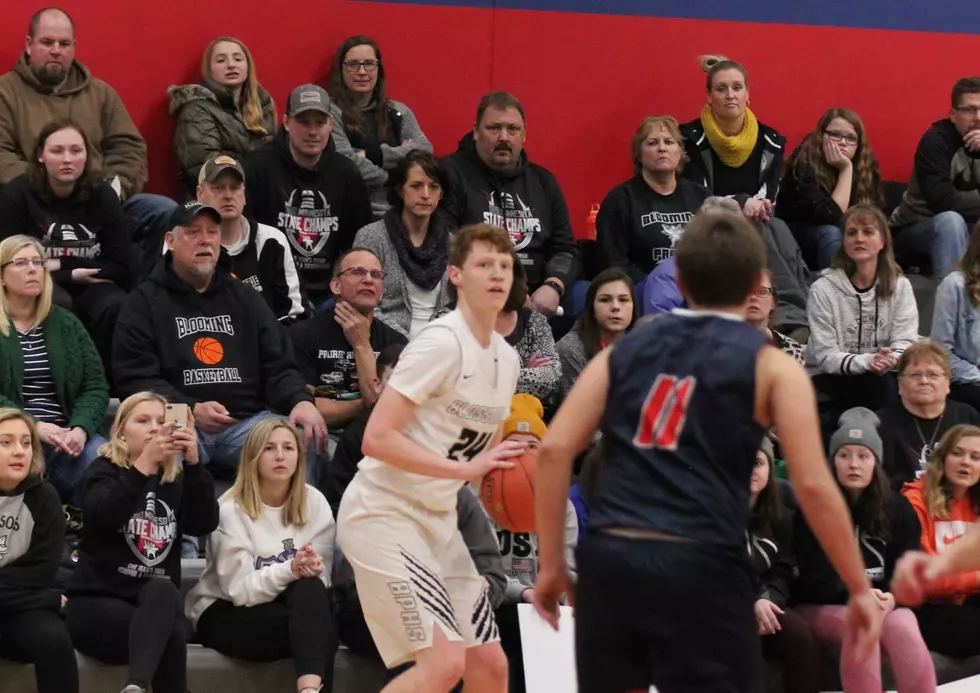 Awesome: Another Blossom Reaches a Grand
Kathy Piller
It's becoming contagious in Blooming Prairie, but no one is looking for a cure. For the third time this basketball season a player has reached 1,000 career points. Awesome Blossom senior Kaden Thomas is the latest to do so, hitting the milestone during a victory in Wells against United South Central on Thursday, February 13. His teammate and fellow senior Gabe Hagen and junior Megan Oswald have also crossed the four-digit threshold.
Thomas scored ten points in the 67-52 victory at USC to surpass the 1,000-point mark. On Saturday's KRFO Coaches Show BP coach Nate Piller said, "He has a lot of natural athletic ability. He is one of the smarter boys athletically that I've been around...He can tell you just about every basketball player in the state. He just (knows) who's who of Minnesota boys basketball. Really follows the game closely."
Piller added, "His knowledge of the game is outstanding. He sees things sometimes on the court that the coaching staff don't see. He's like having another coach out there at times. He's a very cerebral player. You combine that with his athleticism and his family's support of the game and support of him and all of the basketball he's played over the years...Loves the game, loves to compete. Really happy for what he's done."
Thomas was the quarterback for the state championship Awesome Blossom football team.
To recognize his accomplishment, Thomas is an H & R Block Stat Sheet Stuffer. H & R Block Lakeville, Owatonna, Faribault. Upfront transparent pricing, the way tax preparation should be.
Blooming Prairie is scheduled to host parents' night Monday, February 17 against Maple River and senior night Friday, February 21 with USC. BP is 19-3 overall after their 73-45 win over Medford Friday night and 10-2 in the Gopher Conference.
The Blossoms also seem to have the top seed in Section 1A wrapped up with their season sweep of Hayfield and 9-0 record against section opponents.