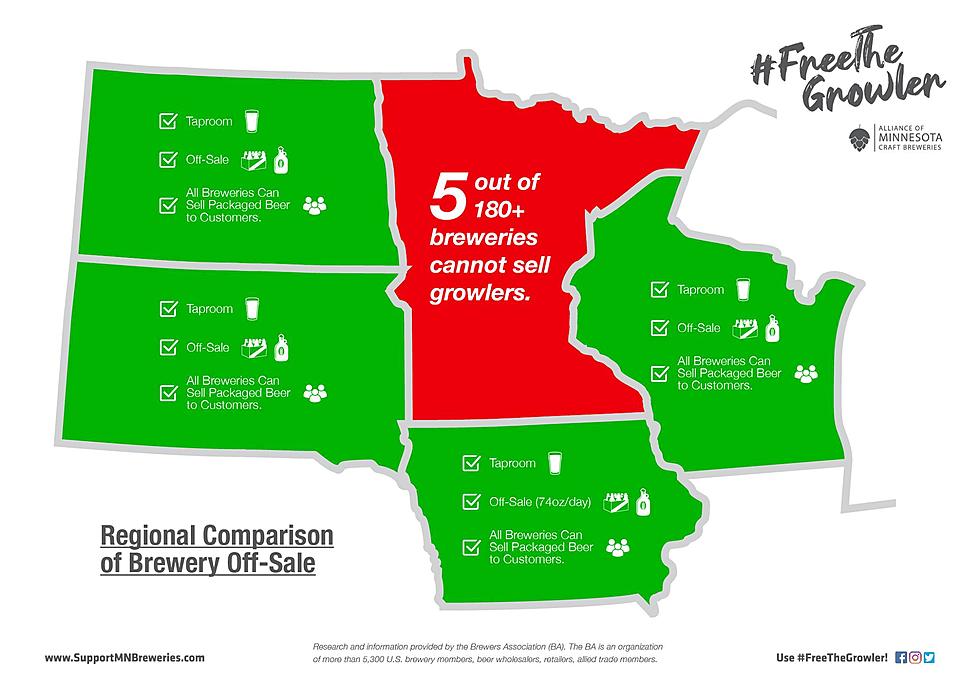 5 MN Breweries (Still) Not Allowed to Sell Their Own Beer to Go
Alliance of Minnesota Craft Breweries
A new graphic from the Alliance of Minnesota Craft Breweries brings to light just how restrictive -- and outdated -- Minnesota's current liquor laws are.
As the fight to #FreeTheGrowler in Minnesota continues, a new graphic highlights just how restrictive and outdated Minnesota's liquor laws are.
"This map right here is why we joined the Alliance of MN Craft Breweries to #FreeTheGrowler," reads a recent Facebook post by Surly Brewing Company. The map shows the state of Minnesota's regional off-sale allowances as compared to its surrounding neighbors.
While North Dakota, South Dakota, Iowa and Wisconsin craft breweries are allowed to sell beer to be consumed in the taproom, sell off-sale beer to be consumed elsewhere and can sell beer in a variety of container sizes (including six-packs, four-packs, 32oz crowlers, 750ml bottles and 64oz growlers), Minnesota breweries are considerably more restricted. Under current liquor law, Minnesota craft breweries are only allowed to sell their beer to-go in 32oz and 64oz containers (less convenient and consumable than 12- and 16oz cans); MN breweries are also only allowed to sell off-sale if they produce 20,000 barrels of beer or less annually. Any brewery that exceeds production of 20,000 barrels of beer in a year loses its ability and right to sell beer in to-go containers -- known in Minnesota as the Growler Cap -- a restriction deemed by many as a form of punishment or unfair consequence on successful businesses. Currently, five Minnesota breweries have reached the growler cap: Castle Danger, Fulton, Schell's, Surly and Summit. Several others including Lift Bridge, Indeed and Bent Paddle are fast-approaching the growler cap limit. Minnesota is the only state in the country that still holds such Prohibition-era laws against local breweries.
In an effort to repeal the growler cap, six breweries -- Surly, Fulton, Indeed, Lift Bridge, Castle Danger and Schell's -- have formed the Alliance of Minnesota Craft Breweries. Together, they represent nearly 60% of beer produced in Minnesota according to Brewers Association and MN Department of Revenue.
"The craft beer industry is vital to Minnesota's economy at both a state and local level, and growler sales keep jobs in Minnesota," reads supportmnbreweries.com. "The cap stifles innovation. Without the ability to make small batches to sell in growlers, brewers can't make the next big thing in beer. Minnesota is stunting the future of its own craft beer industry."
The Alliance of Minnesota Craft Breweries is asking anyone and everyone who believes in supporting local, Minnesota businesses to contact state lawmakers. They've provided a useful tool for finding your state lawmakers here.
15 Cool Central Minnesota Microbreweries to Visit