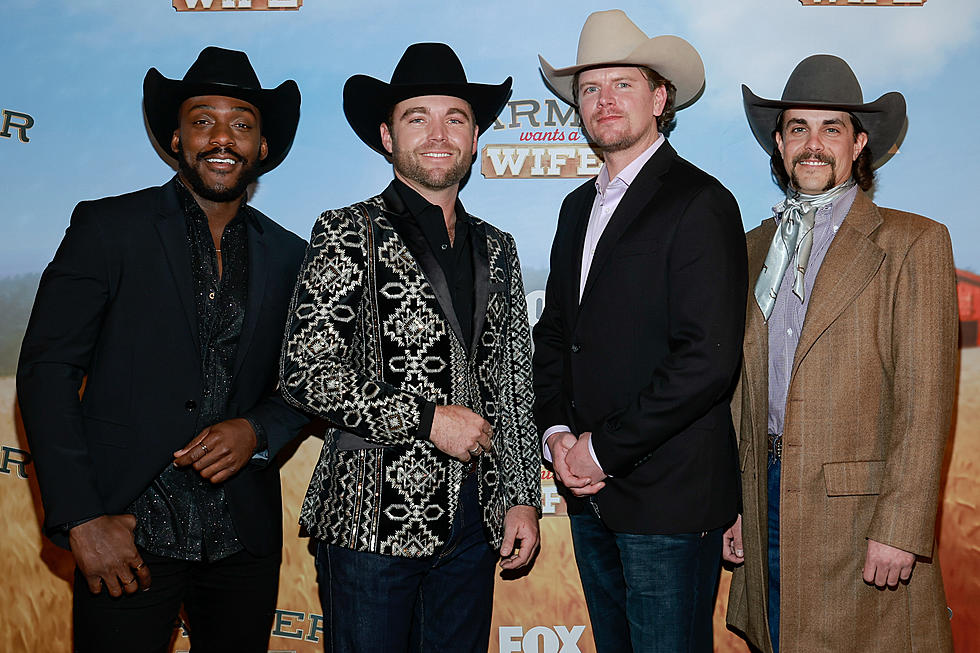 'Farmer Wants a Wife' Season 1: Which Couples Are Still Together?
Jason Mendez, Getty Images
Farmer Wants a Wife wrapped its first season on Fox on May 17. The show was such a hit — bringing in an average of 2 to 2.5 million viewers in overnight ratings — that the network has already renewed the reality dating series for another season. Now that we know the show was a success, what about the couples from the show?
Each of the farmers started with eight women moving into their homes in an effort to find true love. Slowly but surely, women were eliminated — not on a weekly basis — until at last, the men had to choose one winner. Three of the four farmers left their respective journeys with a woman on their arm; however, not every connection proved strong enough to be sustainable in the real world.
Allen Foster
After narrowing down the field to Khelsi Stone and Rebecca Rosell ahead of the finale, Foster chose Khelsi at the end of his journey. Although the two shared undeniable chemistry and bonded throughout the show, the two are no longer together.
Foster and Stone have both confirmed their breakup.
"What an incredible journey and opportunity this has been! I came into this with an open mind and open heart," Foster writes on social media. "Farmer Wants a Wife didn't end how I'd hope as far as a relationship, however, I have gained friendships and had opportunities that will last a lifetime! I truly am a blessed man to have been a part of this journey! Thank you all for the kindness and support!"
Hunter Grayson
In what proved to be a rollercoaster of a season for Grayson and Meghan Baker, the two ended up together at the end of the show after he chose her over Sydney Groom in the finale. Baker left the show mid-season after her grandfather died, but returned to the show just in time to steal Grayson's heart.
At the time of this article, the couple is still together.
"Well there ya have it folks," he shares on social media. "Thank you all for all the support throughout this whole process. We are glad it's finally over so we no longer have to keep this a secret."
Baker has since moved back home to Tennessee from Texas, which puts her just a few hours away from Grayson's farm in Georgia. The pair continue to spend time with one another and even took a cruise together.
Landon Heaton
It was a tale of two Ashleys in the finale for Heaton. Ultimately, he selected Ashley Larea over Ashley Rader.  At the time of this writing, the couple is still together.
Both have confirmed their relationship status with continued posts together.
"Never set an expectation for your journey, because you might discover something more valuable than what you set out to find," Heaton shares on social media alongside a video montage with Larea.
Ryan Black
In the season finale, Black found himself trying to win back the love of Haley Ramirez, whom he had sent home mid-season. After convincing her to come back to the farm, he was left to choose between Ramirez and Sara Vincent. Ultimately, he chose Ramirez, but the feelings were not mutual.
Black finished the season single.
"This journey was a pretty cool deal. Learning about myself and others. Also the way the film industry works," he writes on social media. "I couldn't be more thankful of the experience itself! I finished this reality TV love journey as a single man. Accepting rejection has always been a better trait of mine!!"
"Watch your heart. Keep your guard and if you find yourself in a reality show.. just know the whole world is watching," he adds.
Although a premiere date has not be announced, the whole world will be tuning in for another season of love on the farm in 2024 on Fox.
50 Best Country Love Songs
Check out country music's 50 best love songs, from the legends like Glen Campbell and Conway Twitty to new country crooners like Blae Shelton and Shania Twain. These are the best and most popular country love songs.